Actelis: ML604D Industrial Ethernet Extender
Industrial Ethernet Extender and Media Converter
Designed for Industrial, utility and traffic applications, the ML604D offers a highly compact extender with DIN rail mounting for flexible deployment. With its superior performance, extensive functionality, high robustness and reliability, the ML604D offers complete utilisation of the existing network infrastructure.
Extend Ethernet over existing copper at up to 60Mbps
The ML604D Ethernet extender provides media conversion from Ethernet to Ethernet over bonded copper. It can be connected to any standard Ethernet switch, router or hub to enable Ethernet extended delivery further into the network. ML604D can also be combined with any Actelis' ML684Dx devices to support the 'Drop and Continue' topology of '4+4' – four bonded copper to each side, supporting up to 60 Mbps per direction.
The ML604D is a hardened and robust Ethernet Extender with redundant power inputs designed for deployment in harsh environments. It complies with NEMA 4 extended temperature requirements and K.20/K.21/K.45 for extended protection against overvoltages and over-currents.
High-Speed Copper Link – Up to 60Mbps
Small form factor, no fan, and DIN railing
Environmentally hardened
Enhanced Security – Low vulnerability to hacking
IEEE 802.3ah Ethernet in the First Mile (EFM) 2Base-TL Solution
Rapid Service Deployment
Superior Rate, Reach & Reliability
Low Delay and Jitter for Voice and Video Transmission
Carrier-Class OAM
Worldwide Spectral Compliancy
FCC, UL, CE, NEMA 4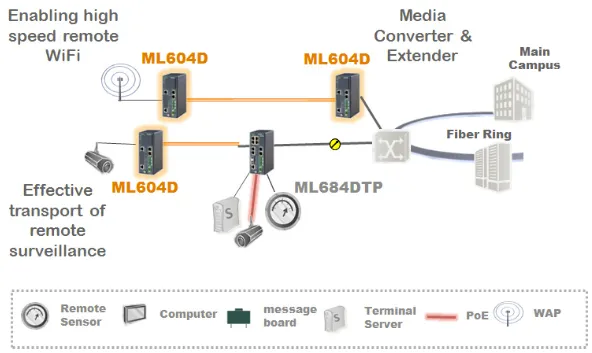 Ultra-compact Industrial Ethernet Extender
Extending – Up to 60 Mbps (symmetrical Ethernet) over four bonded copper
1 x 10/100Base-T Ethernet interfaces
Fits into space-constrained cabinets, DIN rails
Dual Power Inputs
Environmentally hardened, -400 to +750C, fanless operation
Very low power, AC/DC options
Actelis' patented EFMplus technology for industry-leading performance
MEF-compliant services with advanced SLAs
Carrier-class Ethernet OAM including 802.3ah, CFM (802.1ag) and Y.1731 (ITU)
Ease of installation and deployment with advanced copper
troubleshooting tools
Management suite, including MetaASSIST EMS, easy-to-use GUI,
SNMP & IBM Tivoli Software (Netcool Integration)
It can be used with any Actelis devices
Get in touch to talk about your project
Our expert team are waiting for your call to assist!
Whether your right at the beginning or ready to specify your project requirements we are ready to take your call.
Every project is different, our expert team adapts and works with you towards your solution.