Wireless Point to Multipoint
RAD's Airmux-5000 point-to-multipoint broadband wireless radios are the ideal wireless solution for business users demanding high-capacity throughput with dedicated traffic bandwidth allocation and service level agreement (SLA) per customer.
Optimal performance and high spectral efficiency in dense radio environments
Featuring up to 750 Mbps aggregated sector capacity and a range of up to 40 km (25 miles), a single Airmux-5000 base station supports up to 64 remote subscriber units (SUs) with multi-band operation, making it ideal for:
Service providers and ISPs, offering IP backhaul and 4G/broadband access for remote, rural, and underserved communities
Private networks requiring high-capacity inter-branch connectivity for university campuses, healthcare organisations, government institutions, large enterprises, and public establishments.
Security and surveillance applications requiring aggregation and backhaul of traffic from multiple co-located HD cameras.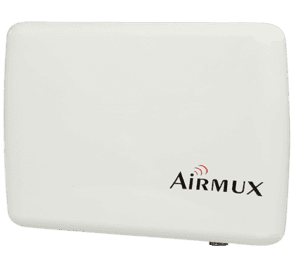 Airmux-5000/5000i/5000D multi-band operations over 2.4 GHz, 3.3 – 3.8 GHz and 4.9 – 6.4 GHz in a single device
Supports fixed and nomadic applications
Airmux-5000D includes two radios (3.x GHz and 5.x GHz) in a single unit
Airmux-5000i with beamforming antenna
5 MHz, 10 MHz, 20 MHz, or 40 MHz channel bandwidth
OFDM, MIMO and antenna diversity capabilities
Range up to 40 km (25 miles)
Intra and inter-site TDD synchronisation using hub-site synchronisation (HSS) and GPS
Low constant latency – typically 4 to 10 msec in full sector load
Water Utility Communications
Cyber-secure SCADA connectivity for water monitoring and automation devices, sensors, pumps, surface and groundwater availability tracking devices etc
Distribution Automation and Smart Meter Backhaul
Secure networking for secondary substations, metering and automation network integration.
Multiservice Operational Network for Police and Military
Delivers Ethernet, TDM and low speed data over existing SDH/SONET and/or PSN.
Smart City Communications
Connect Security cameras, WiFi access points, display boards, and other sensors in urban rural areas over fibre optics and wireless radios.
Get in touch to talk about your project
Our expert team are waiting for your call to assist!
Whether your right at the beginning or ready to specify your project requirements we are ready to take your call.
Every project is different, our expert team adapts and works with you towards your solution.
Search AIRMUX-5000 Products
| | | | |
| --- | --- | --- | --- |
| | | | Dual Polarization-Directional Antenna |
| | | | Antenna for AIRMUX-5000 BS Mobile, Single Pol. Flat panel antenna… |
| | | | Multiband BH, GPS and WiFI antenna for Mobility MVE |
| | | | AIRMUX-5000 antenna, 12 dBi, 2.400 - 2.500 GHz… |
| | | | AIRMUX-5000 antenna, 8 dBi, 2.400 - 6.000 GHz… |
| | | | AIRMUX-5000 antenna, 9 dBi, 2.300 - 2.700 GHz… |
| | | | Airmux-5000 Mobility Demo Kit supporting multi frequency bands at 4… |
| | | | Airmux-5000 Mobility Demo Kit supporting multi frequency bands at 5… |
| | | | Airmux-5000 Mobility Vehicle Roof Kit supporting multi frequency bands at… |
| | | | Omni Antenna, Vehicular Omni-directional , Gain 7 dBi, Frequency Range 2… |
| | | | SU-AIR 100 ODU, with an integrated antenna, supporting multi frequency… |
| | | | SU-AIR 25 ODU, with an integrated antenna, supporting multi frequency… |
| | | | SU-AIR 50 ODU, with an integrated antenna, supporting multi frequency… |
| | | | SU-AIR 100 ODU, with an integrated antenna, supporting multi frequency… |
| | | | SU-AIR 100 ODU, with an integrated antenna, supporting multi frequency… |
| | | | SU-AIR 25 ODU, with an integrated antenna, supporting multi frequency… |
| | | | SU-AIR 50 ODU, with an integrated antenna, supporting multi frequency… |
| | | | SU-AIR 50 ODU, with an integrated antenna, supporting multi frequency… |
| | | | SU-AIR 100 ODU, with an integrated antenna, supporting multi frequency… |
| | | | SU-AIR 50 ODU, with an integrated antenna, supporting multi frequency… |
| | | | Antenna for AIRMUX-5000 SU Mobile, Omni-directional antenna, gain 10dBi, 4… |
| | | | Omni Antenna, Dual Polarization Omni Directional, Gain 10 dBi, Frequency… |
| | | | Omni Antenna,Vehicular Bi-directional,Gain 12 dBi,Frequency Range 4… |
| | | | Antenna for AIRMUX-5000 SU Mobile, Vehicular Omni-directional antenna, gain 12dBi… |
| | | | Omni Antenna, Vehicular Single-directional , Gain 12 dBi, Frequency Range 4… |
| | | | Omni Antenna, Omni-directional , Gain 12 dBi, Frequency Range 5.47… |
| | | | Omni Antenna, Omni-directional , Gain 5.5 dBi, Frequency Range 5… |
| | | | Omni Antenna, Vehicular Omni-directional , Gain 8 dBi, Frequency Range 2… |
| | | | SU-PRO 100 ODU, with an integrated antenna, supporting multi frequency… |
| | | | SU-PRO 25 ODU, with an embedded antenna, supporting multi frequency… |