High voltage isolation for analogue lines in a compact sealed unit
The Line Isolating Unit 12C provides high voltage isolation on analogue telephone lines with broadband delivered to "Hot" sites such as high voltage electricity sub-stations that are subject to a rise of earth potential.
The LIU12C has an integral VDSL splitter which allows direct connection to the LIU3C for PSTN services. The isolator may also be used on ADSL, ADSL 2+, SDSL, SHDSL, SHDSL. bis, VDSL & VDSL2 service lines. Services are selected via internal links.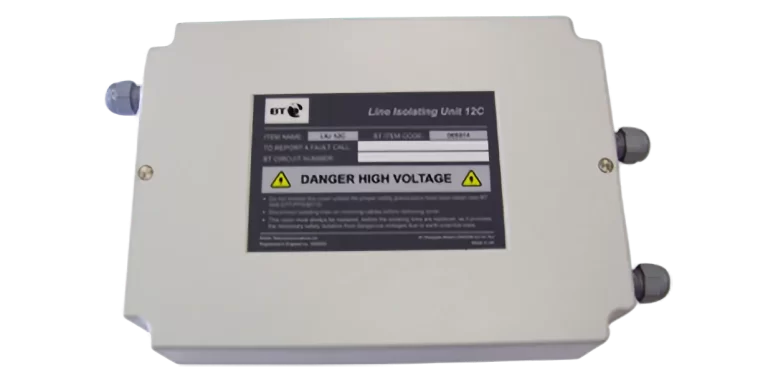 CHARACTERISTICS TO LINE (broadband):

Nominal impedance 135 ohms
CHARACTERISTICS TO EQUIPMENT

Nominal impedance 135ohms
Insertion loss +/-0.25dB
DSL Services:

ITU-T G.992.2 (ADSL.G Lite)
ITU-T G.992.3 (ADSL2 G DMT)
ITU-T G.992.5 (ADSL2+ DMT)
ITU-T G.991.2 (SHDSL)
ITU-T G.993.2 (VDSL2)
PSTN:

Low pass VDSL POTs splitter
BT SIN346
Ports:

Line In
PSTN out
Broadband out
INSERTION LOSS

 200-3.5Khz < 3.5dB
Complex impedance
TERMINATION:

IDC termination
Test access on Line IDC
MEETS THE REQUIREMENTS OF:

Low Voltage Directive 73/336/EEC: safety to BS EN 60950: 1998
BT Spec. D2966C
Get in touch to talk about your project
Our expert team are waiting for your call to assist!
Whether your right at the beginning or ready to specify your project requirements we are ready to take your call.
Every project is different, our expert team adapts and works with you towards your solution.