Actelis: ML680DF Industrial Ethernet Switch/Extender
Industrial Ethernet Switch and Extender
The ML680DF is part of Actelis' ML680Dx family of access-switching products designed for industrial, intelligent traffic network, surveillance, pipeline and utility applications. Complementing the ML684Dx, which supports both bonded copper and fibre, the ML680DF is a cost-optimized, fibre-fed only version with east and west fibre connections that allow multiple sensors or cameras at various locations to be connected in a linear chain, RSTP/STP mesh or ERPSv2 ring configurations.
Delivering up to 1Gbps of high-speed Ethernet where you need it.
The ML680DF offers 1 Gbps of full Ethernet switching capabilities, supporting add/drop of traffic to up to six Ethernet client ports at each site while passing the remainder through to other locations. Featuring a minimal factor, fanless design, and DIN rail mounting, the ML680DF is ideal for deployment in almost any traffic, utility, or industrial cabinet, pedestal or vault.
Environmentally hardened with redundant power inputs and featuring a robust, field-proven design, the unit is NEMA 4 extended temperature compliant and K.20/K.21/K.45 rated for protection against over voltage and over current conditions, ensuring high reliability and trouble-free operation.
1 Gbps SFP ethernet
Small form factor, no fan, and DIN railing
Environmentally hardened
Drop and Continue, RSTP/STP mesh or ERPSv2 ring
Enhanced Security – Low vulnerability to hacking
IEEE 802.3ah Ethernet in the First Mile
Rapid Service Deployment
Superior Rate, Reach & Reliability
Low Delay and Jitter for Voice and Video Transmission
Comprehensive OAM
Worldwide Spectral Compliancy
FCC, UL, CE, NEMA 4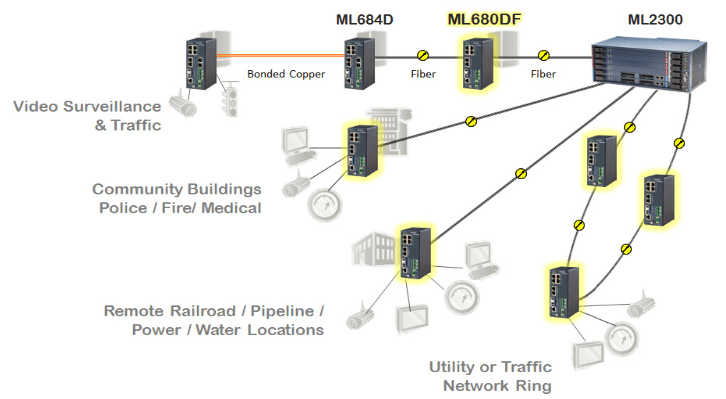 Ultra-compact Industrial Ethernet Extender
CE 1.0 – MEF 9, 14 Certification
2x 100/1000Base-FX SFP MSA compliant
4 x 10/100Base-T Ethernet interfaces
Fits into space-constrained cabinets, DIN rails
Dual Power Inputs
Environmentally hardened, -400 to +74 deg C
Very low power, AC/DC options
Actelis' patented EFMplus technology for industry-leading performance
MEF-compliant services with advanced SLAs
Carrier-class Ethernet OAM including 802.3ah, CFM (802.1ag) and Y.1731 (ITU)
Ease of installation and deployment with advanced troubleshooting tools
Management suite, including MetaASSIST EMS, easy-to-use GUI, and

SNMP for

seamless

integration with third-party NMS

It can be used with any Actelis devices
Get in touch to talk about your project
Our expert team are waiting for your call to assist!
Whether your right at the beginning or ready to specify your project requirements we are ready to take your call.
Every project is different, our expert team adapts and works with you towards your solution.