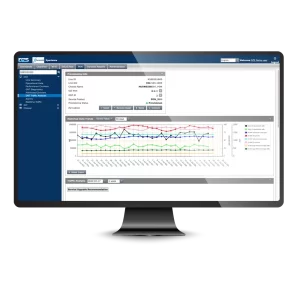 Gain a Clear View of Customer's Broadband Connections
Monitor, identify, diagnose, and fix network problems with DZS AI-based intelligent recommendation engine. Building on expertise from managing well over a hundred million lines, Expresse integrates with network and business processes to take the right actions and deliver the best possible customer Quality of Experience.
Expresse helps ISPs meet the demands of their customers by delivering the best possible broadband quality of experience, improving customer satisfaction, increasing revenue, and reducing support costs.
Key CloudCheck Advantages
Complete Visibility Across Your Entire Network
DZS patented, layered structure, is designed to provide the best Wi-Fi performance. Continuously monitoring the Wi-Fi environment, adapting to environmental changes, while analysing historical data to provide policies that the system should follow for ideal optimisation.
CloudCheck is used by customer care teams to help troubleshoot customer technical complaints through a rich set of analytics and diagnostic algorithms that provide complete visibility into the customer's home and help pinpoint the underlying problem.
A CloudCheck-powered mobile app can be provided to customer giving them the ability to make network changes and limit internet access for children with the simple push of a button. More advanced customers can avoid contacting customer support and troubleshoot issues directly on their own, improving the customer experience and reducing support costs.
Support for Multi-Vendor Environment
We provide you with the right tools to be able to see all the components of your network so you can quickly identify where problems are originating from. With a clear view of the network and diagnosis of the problem, Expresse reduces the percentage of times that a customer issue needs to be escalated by front-line technical support.
Quickly decide what to do when you get a call.
Customer data usage and line capability reports help you upsell customers that could benefit from a higher level of service.
Support For The Latest Technology
Standard reports targeted for specific teams within your organisation used to measure the success of campaigns. These reports allow you to build a better understanding of your customers.
Access Via Northbound API or GUI
Provides a web-service based interface for full integration with the operator's BSS/OSS Systems.
Industry Standards Support
Get in touch to talk about your project
Our expert team are waiting for your call to assist!
Whether you are at the beginning or ready to specify your project requirements we are ready to take your call.
Every project is different, our expert team adapts and works with you towards your solution.