The Kenton Group awarded Best Service Provider Partner by RAD.
The Kenton Group has been awarded the Best Service Provider Partner at the RAD Connect EMEA conference held in Prague earlier this month. The conference brought together RAD's global partners and customers to share market insights, technological advancements, and solution updates.
John Larkin, Managing Director of the Kenton Group, said "We are proud to have received this recognition, which acknowledges our ongoing partnerships with leading telecommunication providers in EMEA to design and deliver complex infrastructure solutions. RAD's MEF 3.0 certified solutions perfectly answer our carrier customers' requirements enabling cost-effective rollouts of 1GB, 10GB and 100GB networks across the UK and Ireland.
He added "Our projects list continues to grow, and we are excited about what we can achieve in 2023."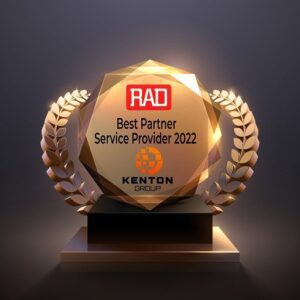 Ill Sarid, the country manager for UK & EMEA, congratulated the Kenton Group on winning the award and emphasised the longstanding relationship between the organisations. He expressed confidence that our teams would continue to work together successfully for years to come.
About The Kenton Group
The Kenton Group delivers network access, demarcation, and connection products and solutions for carriers, operators, service providers, enterprise, and government throughout the UK and EMEA. We offer bespoke development to meet unique requirements either through our in-house team or by utilizing best-in-breed technology from our partners. With design, delivery, and 24 x 7 support, the Kenton Group provides comprehensive network access solutions.
About RAD
RAD is a global leader for telecom access solutions. As an industry pioneer for over 40 years, RAD reliably supplies communications service providers and critical infrastructure operators in over 150 countries with best-of-breed EADs/NIDs, industrial IoT, 5G xHaul, and Operational WAN solutions.
RAD co-innovates networking solutions with customers, offering always-on connectivity from anywhere, along with data-driven, AI-powered actionable insights at a glance. Above all, RAD is distinguished for its supply-chain stability, which outsteps the market in delivery times.
Founded in 1981, RAD serves as the anchor of the $1.6 billion RAD Group, an umbrella of independent companies that develop diverse networking and telecom solutions.