FiberPlex – Media Interface Converters
Media to Fibre Conversion
Patton FiberPlex is a product family specialising in media interfaces to fibre communication solutions. FiberPlex products provide secure, reliable, high-performance fibre optic connectivity for various industry applications. They enable the transmission of data, voice, and video signals over fibre optic cables, extending the reach and performance of communication networks.
Single or Multiple Capacity
The FiberPlex family offers a wide range of media interface to fibre conversion. Available in a single module or chassis devices to a sixteen-card chassis with redundancy options.
The FiberPlex family provide variants of some fibre interface converters in a ruggedised body designed for military-style applications.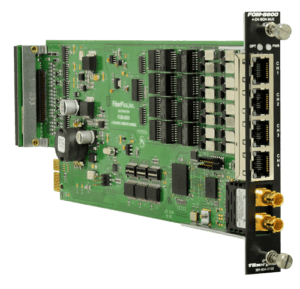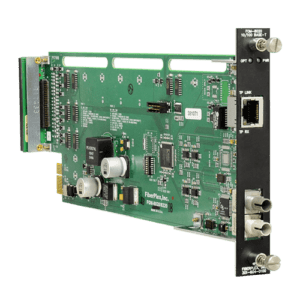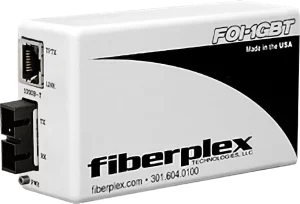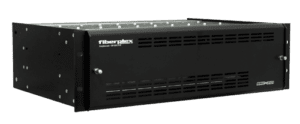 The FiberPlex family is available in various chassis to suit most requirements, including ruggedised military applications.
The module variant comes in two flavours with varying port options, standard and ruggedised for military-style applications. These can be mounted in an RMC-3101 9-unit 3U chassis
The SAC-1 Single Stand Alone Chassis provides power, enclosure and secure mounting for a single Fibre Optic Module. Each SAC‐1‐AC may be rack, wall or desktop mounted.
RMC-5000 rack mount chassis provides up to sixteen slots for any FOM series fibre optic module card. The FOM cards are installed from the rear of the chassis, providing electrical and fibre optic connections at the rear. A front panel window allows viewing of status LEDs on each installed card indicating power supply status, fibre optic link status, signal line status, and control or configuration information, depending on the particular card.
The FiberPlex serial to fibre converters are available in the following options.
Standard and Ruggadised modules:
RS232: convert an RS232 serial 128k interface to fibre using the standard or ruggedised serial to fibre converter up to 20km.
EIA530/RS422: convert an EIA530 interface with speeds up to 256k to fibre using the standard (TD1580-1581) or ruggedised (FOI-1580-1581) serial to fibre up to 20km.
Single or Multi-card Chassis:
The multi-standard serial to fibre interface card (FOM-1090) offers TIA-232, TIA-530, TIA-530A, TIA-574, TIA-449, V.35 or X.21 interface options at up to 25mbps. An adapter cable is required for some interface options. 
Ruggedised Military Application
128k RS232 over Fibre
256k EIA530 over Fibre
Serial over fibre up to 20km
The Patton POTS (Plain Old Telephone Service) to fibre interface converter provides complete electrical isolation for up to four independent channels of 2-wire telephone communications. They support standard analogue phones, STU-III (secure telephone unit) phones, STE (secure telephone equipment) phones, fax machines, and modems and support Caller ID. Enabling POTS to be transported over a fibre connection for up to 20km.
Available in two versions:
Ruggedised POTS to Fibre (FOI-2971 | FOI-4972): ideal for military-based applications.
Card-based POTS to Fibre (FOM-3841 | FOM-3842): available for single or multi-chassis.
Connect POTs up to 20km of fibre
Up to 4 independent channels
Secure Telephone Equipment
Supports Caller ID
The FiberPlex E1/T1 to fibre converters enable longer distances over the traditional E1 and T1, which are limited to a maximum distance of 4800ft (1460m) and 6200ft (1890m). 
Standard and Ruggadised modules:
E1: convert an E1 interface to fibre converter available in standard (TD-5402) or ruggedised (FOI-5402) casing.
T1: convert a T1 interface to fibre converter available in standard (TD-5401) or ruggedised (FOI-5401) casing.
Single or Multi-card Chassis:
The FOM5400 E1/T1 to fibre converter enables up to four individual E1 or T1 channels at different rates.
Up to 4 E1/T1 links over fibre
PBX extension over fibre
Router extension over fibre
Up to 20km extension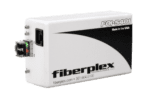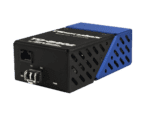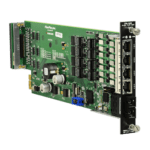 The FiberPlex ISDN to fibre converters enable longer distances over the traditional ISDN at 192kbps. Suitable for various applications, including ISDN Primary BRI Extension, ISDN T Interface Extension, ISDN S Bus Interface Extension, PBX Link, and SATCOM Link.
Standard and Ruggadised modules:
Available in standard TD-5601 ISDN to Fibre and ruggedised FOI-5601 ISDN to Fibre variants.
Single or Multi-card Chassis:
The FOM5600 ISDN to fibre converter enables up to four individual ISDN channels. This allows each channel to be operated at different data rates or interfaces.
Up to four ISDN to Fibre
ISDN at 192kbps
Extend ISDN up to 20km
Ruggedised Military option 
The FiberPlex Ethernet to fibre converter enables ethernet applications such as ethernet network extension, distributed video, distributed WiFi and secure conference connections. They are available in various speed, chassis and port configurations. 
Standard and Ruggadised modules:
10/100Mb Ethernet: The FOI-4110 uses 820nm optics to provide a low-cost solution for 10BASE-T to 10BASE-FL and 100BASE-TX to 100BASE-SX Ethernet communications up to 20km. Along with backward compatibility with legacy devices that have a 10BASE-FL interface.
1GB Ethernet: The FOI-1GBT is a ruggedised military 1Gb to fibre ethernet extender up to 20km
1Gb 6 Port Ethernet Switch: The TIS-8632 offers four ethernet to two SFP ports. Two or more can be chained together via fibre to provide a distributed solution where isolation, distance, security and noise immunity is needed between nodes. Extend your ethernet network over fibre up to 70km.
Preconfigured 1Gb to fibre kits are also available. Contact us for further information.
Single or Multi-card Chassis:
The FOM-8020 and FOM-8220 offer 10/100mb ethernet over fibre up to 20km for the SAC-1 or RMC-5000 chassis for high-population low space networking. The FOM-8220 offers two independent ethernet over fibre ports. 
Extend Ethernet over Fibre
Ethernet speeds up 1Gb
Increase the range of legacy ethernet
Military Ethernet to Fibre available
Get in touch to talk about your project
Our expert team are waiting for your call to assist!
Whether your right at the beginning or ready to specify your project requirements we are ready to take your call.
Every project is different, our expert team adapts and works with you towards your solution.